Hopes and challenges: Globalization for sustainable development of communication technology and innovation dimensions in Batu City
Keywords:
Globalization, sustainable development, communication technology, innovation
Abstract
"Realizing the future we want for all"  is a report on the PPB conference as part of the post-2015 development agenda or known as the Sustainable Development Goals (SDGs). This means that the SDGs targets concerning human, welfare, peace and partnership as well as earth aspects we must make it real. Then the question is what about Indonesia? This development will affect, who? Inayatullah is a development expert, whose concept is popular as sustainable development that is environmentally friendly and insightful. The world and Indonesia are currently in the era of industry 4.0 all forms of activity are relating to new media, development communication and communication technology; this is where they can meet. This research is a descriptive analysis using Globalization theory, which has a constructivist worldview, highlighting sustainable development, human-centered, has a long-term vision; it involves the role of the Government and the participation of the people of Batu City, East Java in the digital era. The author in collecting data using observation and in-depth interviews. The researcher conducted in-depth interviews toward agents of change ranging from managers of economic resources engaged in agriculture with the mandate of millennial farmers(millennial farmers ambassadors), professional non-government agricultural extension workers, Community Information Group/Kelompok Informasi Masyarakat (KIM) to the religious institutions Islamic boarding schools in Batu City. The Public Communication Information/Informasi Komunikasi Publik (IKP) Batu City Government as a development agency. The results obtained from this study are human-centered development, believing that every member of the community is able to contribute to the progress of the nation as human nature who has the ability to think, be passionate and be creative. Technology, as the result of human innovation, is capable of determining the development of civilization in society. The role of the Government in encouraging the acceleration of development that is convergent, complementary, and coherent in planning policies to address inequality. The conclusion of this study is the government's efforts to re-construct development in order to mobilize the noble ideals of development and the spirit of mutual cooperation from the community as agents of change.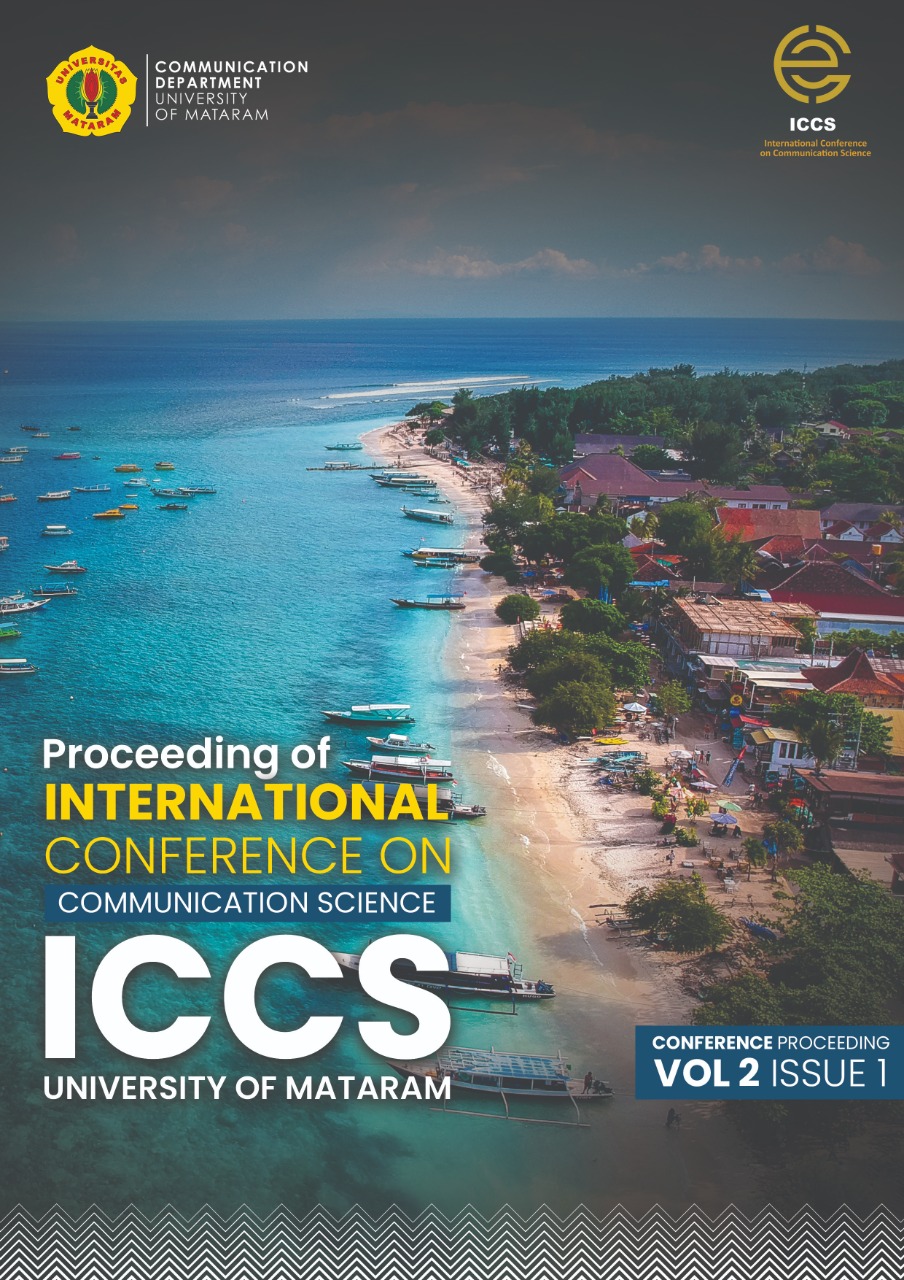 Downloads
Section
COMMUNICATION AND SUSTAINABLE DEVELOPMENT
License
Copyright (c) 2022 Proceedings Of International Conference On Communication Science
This work is licensed under a Creative Commons Attribution 4.0 International License.